Everybody in Sustainable Orillia (SO) loves Claire Buchanan who has worked as SO's Data and Project Co-ordinator since June 2022.
Claire was born and raised in Toronto and has spent the last five years in the Orillia area taking courses in biology, geography and ecology and gaining a Bachelor of Arts and Science degree in Environmental Sustainability at Lakehead University.
Following her degree program, she enrolled in an Environmental Technician's Diploma program at Sir Sandford Fleming College in Lindsay, where she is exposed to more technical skills – going out to workplaces and engaging in practical activities outdoors. Claire loves the fact that "many of my professors come from practical workplace experiences."
Growing up in Toronto with environmentally-conscious parents, Claire noticed that there were many environmental issues in the city. She decided the field of ecology would become her career choice. "I noticed that city people weren't very conscious about things, even something as simple as sorting waste," says Claire. While attending school, she has been living with her grandmother ("She's a huge birder," says Claire) in Ramara.
In her role with SO, Claire has particularly enjoyed attending board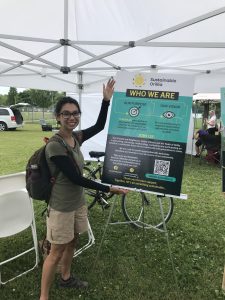 and sector meetings where she has been exposed to interactions with everyone and seeing projects come together. She has especially enjoyed meeting SO volunteers and participating in SO events: the Electric Vehicle Show, the Path to Net Zero Conference, the SO booth at the Mariposa Folk Festival, and the Urban Walking Tours.
She reports having learned new skills such as conference and event organizing, report writing (such as for the National Climate League and Orillia's State of Sustainability). She has become more comfortable with online meetings. "I also enjoy doing the behind-the-scenes work that's needed to make sure all the strings are attached properly and events run smoothly," says Claire.
What does the future hold for Claire? "It's hard to say," she says. "I know I want to stay in the environmental sector – maybe in a job that combines working hands-on outdoors with indoor work."
At Sustainable Orillia, we applaud Claire Buchanan. We are confident the future holds good things in store for her.