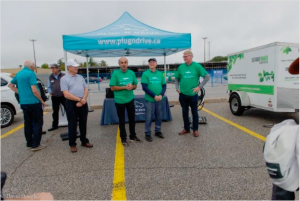 Sustainable Orillia hosted the first Orillia Electric Vehicle Demo weekend at the Orillia Square Mall on Saturday September 28th and Sunday September 29th, 2019. This event, co-hosted by the Orillia Square Mall and sponsored by the City of Orillia as a public education experience, featured a large variety of battery electric (BEV) and plug-in-hybrid (PHEV) vehicles.
Vehicles provided by Plug 'N Drive for test drives and rides were augmented with member owned vehicles from the Tesla Owners Club, the Electric Vehicle Society, Sustainable Orillia and demo vehicles provided by Orillia Hyundai and Green Storage. Plug 'N Drive technicians conducted daily 1:00 pm in-mall seminars on EV ownership while EV owners were on hand to answer questions, share experiences and provide advice.
The twenty-three vehicles featured on each day included; the Chevy Bolt, Nissan Leaf, Toyota Prius, Honda Clarity, Mitsubishi Outlander, IBM i3, Kia Soul, Hyundai Kona and Tesla models 3, S and X.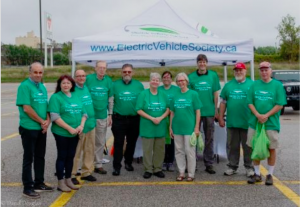 The organizers are grateful for the many volunteers who gave up their weekend and to the sponsorship provided by local business to make this a very successful event and an enjoyable experience for the estimated 2-300 members of the public that came out to enjoy the weekend. Some came from some distance away just to test drive and learn about EV ownership and we are grateful for their participation and interest.