We don't have too many suggestions for this edition – but stay tuned for our next round. As always, we recommend:
The Minimum Viable Planet. An undepressing newsletter that helps people take positive and practical climate action. Highly recommended: Click here to subscribe.
Closer to home, both Green Orillia and the Rescue Lake Simcoe Coalition publish regular newsletters that are provide relevant information for us all. Contact Green Orillia here and the Rescue Lake Simcoe Coalition here for more information and their latest releases.
If you would like to read something more substantive – here's a review of a recently published book that we heartedly recommend:
Under the Sky We Make: How to Be Human in a Warming World, Kimberly Nicholas, G.P. Putnam's Sons, New York, 2021. 247 pages.
— A short review.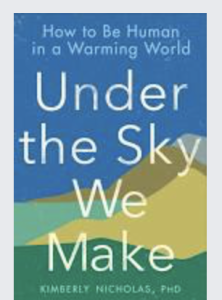 This recent book is chock-full of information about how human activities have created the current climate crisis. Nicholas, a PhD. and leading global sustainability scientist, takes the reader through the causes of global warming, the harm already done, and the catastrophes looming under business as usual. What's different about her approach, however, is that it is also her personal story about how she became aware of her own contribution to the warming of the planet. More importantly, she shows us her own thoughts and actions—and her own feelings about things—providing a prescription for what all of us can do.
This is a very easy read by an academic who writes with humility and humour. She will make you angry at times, she will make you fearful at times, but most of all she will make you hopeful. As she says right at the beginning: "It's warming. It's us. We're sure. It's bad. But we can fix it." And she shows us how.
Bonus: Don't have time to read right now? Nicholas provides a 7-page point-form summary of each of her chapters at the end of the text. Even if you've read every word, the summaries help bring back her main points. A great idea!