MJ Pollak, an Orillia artist, is the winner of Sustainable Orillia's second art contest of 2021! The contest, introduced in late May with a deadline of June 30, asked local artists to submit a piece of work that expressed the theme of "trees," Sustainable Orillia's communications theme in the third quarter of 2021. Eight artists responded, submitting paintings and one piece of fabric art.
Three judges juried the submissions and their choice of winner was "Breakthrough" submitted by Pollak (see attached picture).  Pollak explains her thoughts about the work this way: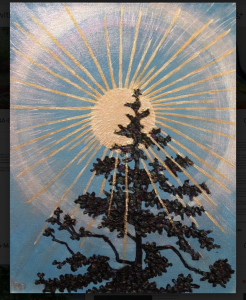 "The name of the piece is "Breakthrough" as the rising sun clears the top of a tree. Trees have been considered mystical spirits by many cultures since the dawn of time.  They soak up the sun and give back in nutrients. They clean the air and provide protection from the elements."
MJ (Mary Jo) Pollak's Orillia District Arts Council (ODAC) profile reveals that "she began her post-secondary studies at Ontario College of Art (now OCADU). While doing General Studies in fine art there, she became interested in theatrical design and enrolled in the Theatre Crafts and Design program at the Banff School of Fine Arts. This led to an internship in the Design Department at the Juilliard School in New York, after which MJ returned to Banff as Faculty in the Theatre Department.
"Next stop after that was a position as resident Costume Designer at Le Cercle Moliere theatre in Winnipeg, Manitoba.  Four years later MJ decided to return to Ontario where she was a free-lance set and costume designer for many years until she started a family.
"MJ is currently focusing on tuning her skills in acrylic painting. She regularly exhibits paintings and photographs at Hibernation Arts, [on Peter Street] in Orillia.  MJ has been nominated twice for the Orillia Regional Arts and Heritage Awards."
As our winner, Pollak will receive a cheque for $75 and her work will be featured on the Sustainable Orillia website (www.sustainableorillia.ca).
Sustainable Orillia thanks all of the artists who submitted work for our second contest. The decision by the panel to pick a winner from those submitted was not easy.
Sustainable Orillia's third contest will be announced in late August with a deadline of September 30th. Like our first two contests, it will ask local artists to submit work on the fourth quarter Sustainable Orillia communications theme—the theme to be announced at that time.