This year's calendar celebrates the nature's biodiversity  – and its importance to the many students who took part in Sustainable Orillia's 2023 Student Art Competition.  Nineteen of the nearly 200 submissions are featured in this year's calendar, each with personalized captions from the artists themselves.   From bats to foxes to herons, this charming and  heartfelt collection serves as a reminder to us all that every creature and plant has an important role to play in maintaining the balance in our natural environment.
Something to 'howl' about c/o Josie Barath, Grade 7 at Monsignor Lee School.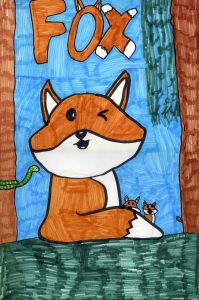 Sustainable Orillia wishes to thank all of the students who participated this past year and all of the local art teachers for encouraging their students' imaginations, talent and participation.  Thank you all.
Calendars are on sale for $10.00 at Hibernation Arts Studio (17 Peter St. South) where until September 29th you can see an exhibit of all the original art captured in this year's calendar.
Calendars are also for sale at CC Fashions (50 Mississaga St. West) and Home Hardware (5 King Street).   Proceeds from the calendar sales support Sustainable Orillia programming, including the annual student art competition.
That's a big wink and a thank you from Mrs. Fox (c/o Izzy Galluci, a Grade 5 student at Severn Shores) for your support.