A winner declared in Sustainable Orillia's first art contest.
Mary Ann Tully, an Oro-Medonte artist, is the winner of Sustainable Orillia's first art contest! The contest, introduced in March with a deadline of April 30, asked local artists to submit a piece of work that expressed the theme of "renewal," Sustainable Orillia's communications theme in the second quarter of 2021. Seven artists responded with a total of eight pieces of work—paintings, a photograph and two pieces of fabric art.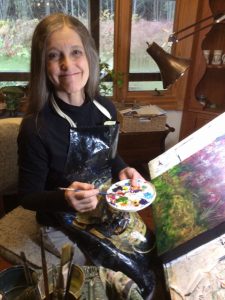 Three judges juried the submissions and their choice of winner was "Hope and Irony," submitted by Tully (see attached picture). Tully's write-up, which accompanied the piece, explains her thoughts about her mixed media painting:
"I care deeply about how climate change is destroying our natural world. A few years ago I found out about a British sculptor, Jason deCaires Taylor, who creates underwater museums with sculptures which develop into 'artificial' coral reefs. The sculptures are implanted with fragments from damaged corals. As well as promoting coral regeneration, the installations divert tourists away from natural coral reefs that are suffering from global warming and pollution.His marine conservation brings me hope that we can work to preserve life, instead of destroy it."
A close look at her winning work reveals the sculpted figures in a watery environment as she captures the renewal that Taylor, the British sculptor, seeks in creating the artificial coral reefs.
Tully's website (www.maryanntully.net) notes that she has been painting for over twenty-five years. "Storytelling with paint, she creates worlds of beauty, mystery and hope. Her love of colour and design infuses her watercolour, acrylic and mixed media work with a rich tapestry-like quality. She views art as a celebration of the human spirit and has particular interest in the stories which women tell with their hands in daily work and the art and craft they create. Her art explores diversity of culture and . . . express[es] her concern for human rights, as well as social and environmental issues."
As our winner, Tully will receive a cheque for $75 and her work will be featured on the Sustainable Orillia website (www.sustainableorillia.ca).
Sustainable Orillia thanks all of the artists who submitted work for this, our first contest. The judges remarked that, while they liked the message of hope that Tully's work included, and felt that hope is an important component in our messaging about climate change and sustainability, all of the pieces were "such excellent works of art, and wonderful messaging." They also noted, "It was also quite exciting to have so many submissions for our first call out."
Sustainable Orillia's second contest will be announced in June with a deadline of July 31. Like our first contest it will ask local artists to submit work on the third quarter theme of Sustainable Orillia's communications—the theme to be announced at that time.
A Postscript from Mary Ann Tully
Recently, after winning Sustainable Orillia's first 'Thematic Art' contest, Mary Ann Tully sent a note of thanks to Sustainable Orillia, care of our President, Stan Mathewson.     Mary Ann expressed thanks for being able to contribute artistically to the sustainability cause and noted the good work that Sustainable Orillia is doing. A long-time supporter of the environment, Mary Ann donated her winnings to the Environment Defence Fund, a charity that does excellent work protecting nature and our environment.  The beautiful card (shown here) is another example of Mary Ann's talent and values.
Thank you, Mary Ann for your kind wishes and for taking the time to reach out.  You are a true Sustainable Orillia Hummingbird Hero and we hope you will continue to participate in our ongoing art competitions.