Celebrated Canadian roots-music veteran Rick Fines will perform at the Orillia Opera House Studio Theatre on Sunday afternoon (2:00 p.m.), October 1, 2023 in support of Sustainable Orillia. A seasoned and multi-award-winning musician, Rick's songs are intimate, priceless and unforgettable, many of which will be covered in this 'Bluesy Grooves & More' concert.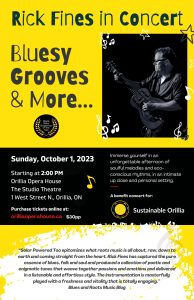 One of Canada's hardest-working musicians, Rick has toured across Canada countless times and has recorded over 14 albums. He engages audiences with captivating songs, endearing humour, diverse guitar styling and his signature vocal growl. Fines' newest release, Solar Powered Too, was released during the global pandemic with the bulk of the songs recorded in a little cabin in the North Kawartha woods, using solar power.
An engaging story-teller and songwriter, Rick believes in the transformative power of music. When not performing, he can be found teaching and sharing with students across Canada.
The Ottawa Citizen wrote, "Just try not to smile when Rick Fines is on the stereo. A gorgeous picker with a down-home voice and attitude, even Fines' blues can lift your spirits."
The October 1st  'Bluesy Grooves & More' concert is presented by Sustainable Orillia, a network of citizens committed to improving the long-term quality of life, the health and the environment in our community.
For tickets, go to the Orillia Opera House website at 'www.orilliaoperahouse.ca'   and watch this space for more details closer to the event.