Two local high school students have been selected to participate in a significant national research project. 
Blythe Wieclawek and Weiqi Xu, both members of Sustainable Orillia's Youth Council and Grade 11 students at Twin Lakes Secondary School, will each be interviewing other young people to get their thoughts and feelings about climate change. They want to discover the various ways youth are taking action in support of greenhouse gas (GHG) reduction and a greener future. The research is a project of Climate Action Lab, produced by Let's Talk Science and comprised of 100 young people, and mentors, from across Canada. The Climate Action Lab will take place over 3 months. Of the 12 groups of youth from across Canada, Blythe and Weiqi are part of a 9-person Rural Ontario team (two of them from Orillia!).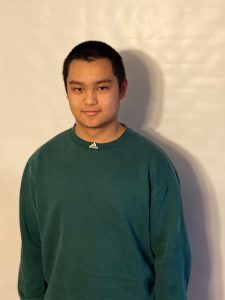 "I'm looking forward to working with likeminded people my own age," said Weiqi, "and connecting with youth from across Ontario who share my interests." Blythe added, "I'm passionate about getting more young people involved in climate change." 
The Youth Climate Lab will serve as a prelude to the Sustainable Simcoe Youth Summit scheduled to take place at Lakehead University's Orillia campus in May, pending approval by the School Board. The day-long summit will convene 200 youth from across Simcoe County, and will include 8-10 workshops on a wide range of climate-related themes, including activism, Indigenous teachings, local health effects, burnout and more. 
Weiqi, one of the summit's organizers, said, "I'm super-excited about the workshops. They'll give youth from across the county a chance to connect with others who all want to have an impact on climate issues. The summit is going to expand the climate movement, spark new ideas among young people, and show them how they can help. But the real, long-lasting impact is going to be through the connections made at the conference."
Blythe, another summit organizer, said, "We decided that we wanted to go beyond participation in workshops. Instead, participants will each come up with an initiative they can carry out in their own community. They'll work through an action-planning process, take it home and put it to work."
When asked about the climate conversations they are having and hearing among their peers, both noted the anxiety and need for immediate action felt by young people. "Most of the climate conversations I have with other youth deal with things we disapprove of—like the Bradford bypass highway," said Weiqi. "We want people in charge to listen to us. We can discuss all we want about what's happening across the country, and we do – all young people know about this stuff – but it's really a matter of what we can do to help salvage our future." 
"My friends are quite climate aware," said Blythe. "We talk about our anxiety, how we're feeling the pressure and the difficulty of being young and wanting to make changes—and then not having adults listen to us. At the same time young people are hopeful and passionate about the future."
When asked what they would like to say to people in Orillia, Blythe responded, "I would say we have to act now. There's no more time for waiting till a better opportunity comes along." Weiqi added, "I'd like to say to them that climate change is real, it's true, it's happening. If you don't care about it, you really should – it's going to affect everybody—negatively. We need to take serious action now."
As for what needs to be done, Weiqi suggested, "The municipality has a lot of power to reduce emissions in our city. What we really need is an ambitious target that will actually reflect science and set us on the right path. We need a plan that will ensure minimal impact from climate change. I want to emphasize – yes, climate change is happening NOW! We've got to DO something."
Blythe agrees. "It's really important to listen to young people who are the ones who will be living in the world shaped by the actions we take today. We've got to act now! Everybody has a role they can play – it's not just individual actions, like reusable water bottles. We need to turn to the people who create our laws. If we take collective action, we can accomplish so much more. It's about getting involved in local politics. Municipalities control up to 50% of GHG emissions." Blythe's words are a rallying cry for action, asking Orillians to take needed steps locally, but also to send an email, a letter, or a phone call to Prime Minister Trudeau and Premier Ford.
What drives young people like Blythe and Weiqi to be active in the climate movement?  The SO Youth Council (15-20 students from local high schools) are all in the same age group. "Once we started talking about it with people we know and our classmates," said Weiqi, "that drove a lot more people to get involved."  
For Blythe, "It was a slow burn. I grew up in an environmentally conscious household. I was involved in my public school. As I got older I developed some leadership skills and got more involved with the climate crisis. In the 9th grade I was introduced to the Youth Council and got introduced to action. I helped put projects together and educate other youth, and got into advocacy work. I saw this as an avenue where I could make change." 
Weiqi says his commitment stems from the education he received in elementary school. "Learning about climate change early set me on a path fighting for this cause. My interest began like a small snowbalI, and as I learned more and more, the snowball got bigger and bigger. When I joined the Sustainable Orillia Youth Council and connected with others like me, I lost my fear of voicing my opinions. People may feel powerless, but if we collectively speak up, we really can make a difference. It's our civic duty – like voting. If I don't speak up, I'm not contributing. I HAVE to do this."
Information on the Sustainable Simcoe Youth Summit will be soon be posted at http://sustainableorillia.ca/ssys