Housing—Sustainable Orillia's focus for the fourth quarter of 2021 
Sustainable Orillia has determined that "housing" will be our theme for the 4th quarter of 2021 (October-November-December).  Readers will find that articles and our art contest for this quarter will focus on various aspects of housing—with special emphasis, as readers might expect, on the various actions and technologies needed to make Orillia's housing stock more sustainable—essentially, more energy-efficient.  As the City of Orillia puts together its Community Climate Change Action Plan (CCCAP), citizens can expect that one of the major focuses of the plan will be a push in the next few years to reduce energy use in new and older housing as well as in commercial and industrial buildings. Sustainable Orillia will be supporting this push as one of the most promising methods of reducing carbon emissions as our community and our country shifts to try to meet our 2030 emission-reduction goals.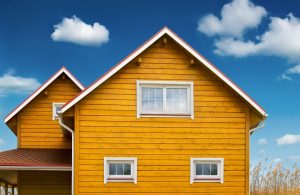 Readjusting our way of life will be required to meet the challenges of the climate crisis. So, too, is a readjustment to our ways of thinking in terms of what a "sustainable" community—a sustainable world—looks like.  The good news? There is every chance that it will look better than the current world we live in—cleaner, less polluted, healthier, and more equitable. A happier world. A more just world.
A number of terms jump out at anyone seeking to understand the technology and the types of housing that we may require—"carbon neutral housing," "net-Zero housing," and "passive housing" among them.  The common denominator in all these terms is that the construction being described to fit these descriptions has the goal of reducing carbon emissions (primarily from heating and electricity use, but also from the construction itself) from such homes. We will explore these terms in future articles and show that there are technologies available right now that can assist homeowners and business owners alike to move toward more sustainable buildings.  It should go without saying that new buildings being planned for our community should aim to be as emission-free, as sustainable, as the new technologies make possible.  
Fortunately, what is being discovered is that the use of certain technologies and materials in new housing can drastically reduce the actual costs of living and working in those buildings once built.  The technology and materials used can increase building costs somewhat, but once built, they substantially reduce the costs—often by as much as 90%–of living in them.
At the same time, we are entering an era when our governments are now taking seriously the need to reduce carbon emissions on a national scale.  Part of their doing so will undoubtedly be incentive programs to enable homeowners and business owners to make the changes that are needed.  The current Canadian government is offering such programs already (as they are for the purchase of electric vehicles), and other incentives are being put in place by companies like Enbridge Gas and Ontario's Save On Energy program.  It is likely that more will be coming in the next few years.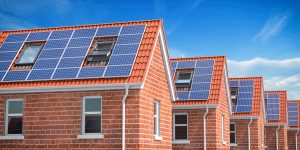 During the recent election, one priority issue was "affordable housing." Truth to tell, housing cannot be truly "sustainable" if it's not also "affordable." For too long our society has wrestled with homelessness and food insecurity—twin social problems that victimize far too many people in our communities. We have watched the numbers of "homeless" people on our city streets (and yes, in Orillia and smaller towns, as well) grow for two-three decades.  
Forty years ago, in 1981, Canada's first "Food Bank" came into being in Edmonton, Alberta, as a "temporary" relief measure for the many people who were finding that their monthly incomes were not sufficient to provide them with both safe housing AND adequate food for themselves and their children. In 1987, the Canadian food bank community created the Canadian Association of Food Banks (now Food Banks Canada) whose stated mission was to "enable an effective food bank community that addresses the short term (italics ours) need for food and longer term solutions to reduce hunger in Canada." There are now over 700 food banks and 3,000 food programs available in Canada. Charity, it appears, has not been adequate to solve what is a national problem for Canada and its people. What people now realize is that government action—and a different way of doing things—is needed to eliminate both housing shortages and food shortages for thousands of people across the country.
"Sustainability" is not about leaving people behind. Our communities will only be truly sustainable if all people in the community find their basic human needs met—food, clothing, shelter, plus social contacts and the ability to participate in that community.
Sustainable Orillia's goal over the next three months will be to shed some light on both the technologies and the incentive programs that are available. It is our hope, as well, that the City of Orillia, as it develops its own Climate Change Action Plan, will see the value of setting up programs that will help the community move quickly toward greater sustainability—especially in housing.
The Canadian government has set a goal of a 40-45% reduction in Canadian emissions by 2030—only eight years from now.  To reach that goal will require cooperative efforts from everyone in every community across our wonderful land. 
Can we do it? We won't know till we try. 
So let's go, Orillia. Let's make our community one of truly "sustainable housing."