Sustainable Orillia and co-hosts, The Bike Stop of Orillia and the Simcoe-Muskoka District Health Unit, are pleased to present The Orillia Bike Challenge, launching at a registration event on Sunday May 14th during the hours of 1-4 p.m. at the Orillia Recreation Centre's parking lot at 255 West St. South.
What is The Orillia Bike Challenge? Participants in The Challenge will be asked—instead of driving—to ride their bicycles to work, to school, or indeed anywhere, during the four-week period between Friday May 19 and Friday June 16, 2023. Participants can track their cycle trips by downloading Strava (a free app) and joining the Sustainable Orillia Bike Challenge club on Strava. Total trips will determine a "winner" and a number of additional prizes are available for participants."
Prizes and certificates will be awarded at a wrap-up event on June 16, based on the number of trips made by bicycle during the period of the challenge regardless of distance travelled—even trips to the corner store will count. Note that the registration event is five days before the first day of the challenge, May 19th—Bike to Work Day in Canada and the U.S.
(For more on Bike to Work Day, see https://www.wincalendar.com/ca/Bike-To-Work-Day.)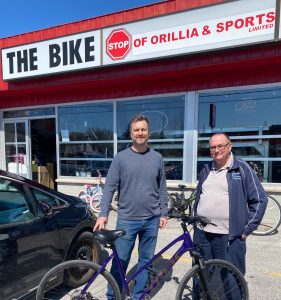 Dave VanAlstyne of Sustainable Orillia says, "As part of Orillia's Big Move #2, we've got to do more to promote transportation that is active. It's a win-win. Cycling reduces greenhouse gas emissions while at the same time giving health benefits that will last a lifetime!" VanAlstyne also helps organize Sustainable Orillia's Electric Vehicle Exhibit planned for ODAS Park on the weekend of August 5th-6th.
Paul Belanger of The Bike Stop of Orillia agrees. "We want to promote active transportation. It's a piece of the puzzle for a healthy lifestyle. We need the city to create more cycling infrastructure. Better infrastructure will encourage more people to ride, and more people using bicycles as transportation will justify this important investment – it's a virtuous circle."
The May 14 launch event at the Rec Centre parking lot will enable participants to:
• register for and learn the rules of The Orillia Bike Challenge,
• learn how and where to bike safely (required bike equipment, rules of the road, bylaw info, etc.)
• receive a Cyclist Handbook courtesy of Cycle Toronto (https://www.cycleto.ca/ )
• get the scoop on the health benefits of cycling from Charlotte Knegt, RN BScN, Public Health Nurse.
The Orillia Bike Challenge supports the City of Orillia's climate change action plan, Orillia's Climate Future. The plan's "Big Move #2" is all about changes in transportation – increasing the uptake of zero-emission vehicles and making investments in public transit and active transportation.
At a wrap-up event on Friday, June 16th the winners of the challenge will be announced and receive prizes from The Bike Stop of Orillia and a private donor.
Participants may bring their bikes to The Orillia Recreation Centre parking lot on West St. South on Sunday May 14 between 1 and 4 p.m. and talk with experts from The Bike Stop of Orillia, the Simcoe-Muskoka District Health Unit and Sustainable Orillia.
Participants can register for The Bike Challenge at https://www.eventbrite.ca/e/625301803527
For more information about the organizers, go online to the following sites:
https://www.bikestoporillia.com
https://www.simcoemuskokahealth.org
https://sustainableorillia.ca
Or contact:
Dave VanAlstyne at (705) 329-1767 (h) or 705-801-9982 (c)
– or 'davidvanalstyne@sustainableorillia.ca'