The nineteen student pieces of art chosen for Sustainable Orillia's 2024 "Biodiversity" Calendar will be on display at Molly Farquharson's Hibernation Arts Studio on Peter Street South from Saturday, September 9th until Friday, September 29th.
The pieces focus primarily on species found in the Orillia area as that was a condition of the art contest sponsored by Sustainable Orillia this spring. As a result, one might expect to see a frog, a fox or two, a rabbit, a deer—species commonly found, and seen, in our area. But come to see the blue-tailed skink! the field mouse! the blue heron! the wolf!– and the many others chosen by their student creators. You'll not only learn about your environment—but, at the same time, you'll marvel at the exuberant ability of the young student artists.
There will be an "Opening" of the Student Art Show on Tuesday, September 12, from 4:00 to 5:30 p.m. Student artists, parents and teachers are invited to join us at that time as we celebrate their work. Light refreshments will be available during the opening—and we hope to have some of the artists speak to their works and their choice of subject.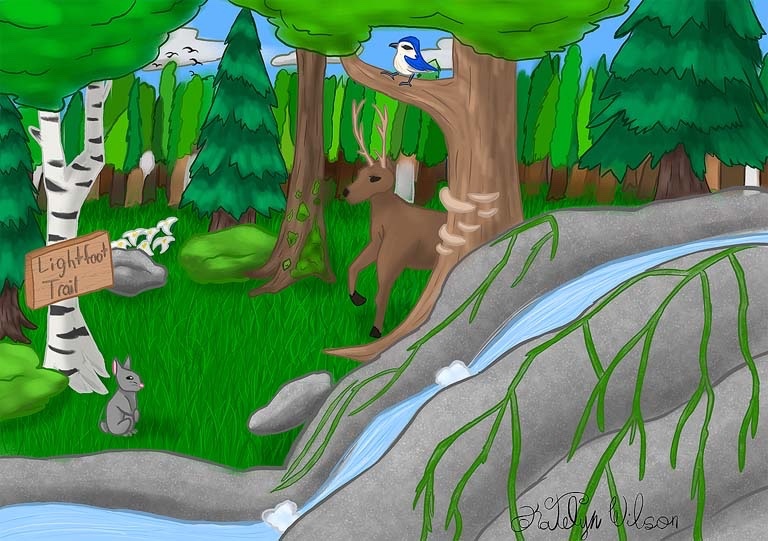 Sustainable Orillia is very proud of the local student participation in the 2023 Student Art Contest ("Biodiversity—It's all around us!"). One hundred and eighty-nine entries were submitted from seven area elementary schools and the three high schools. Cash prizes were presented to those students whose work was chosen.
Twelve of the entries grace the pages of Sustainable Orillia's 2024 "Biodiversity" Calendar, while seven more are used to illustrate other pages in the calendar. Copies of the calendar will be on sale at Hibernation Arts during the three weeks of the show. Price is just $10. You won't want to miss having one of these colorful calendars to hang in your home or office.
The Student Art Show will feature all nineteen pieces and, for each piece, identify the student artist's name, grade and school. A brief comment by the artist will accompany each work.
Saturday, September 9th until Friday, September 29th. While downtown, plan to drop in to Hibernation Arts at 17 Peter Street South, say hello to Molly, and enjoy the student work being displayed over the three weeks. You'll enjoy other work on display in her studio, as well.
The Studio Gallery is open from 11 a.m. to 4 p.m. Tuesday – Saturday. (Closed Sunday and Monday).