Building on the success of last year's art competition, Sustainable Orillia has launched, what promises to become an annual event – our 2023 art contest. This year students from local schools have been invited to share their vision of biodiversity – the many, many forms of life that surround us.
Earlier in February, while launching this year's event – our colleague, Fred Larsen drew upon Joni Mitchell's iconic song "Big Yellow Taxi" to underscore the point that "You don't know what you've got till it's gone". As Fred points out, in the same song, Mitchell also sings, "They paved paradise and put up a parking lot." It's clear that Ms. Mitchell was far, far ahead of her time with respect to drawing attention to human activities, disrupting the natural world.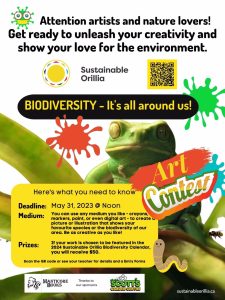 "Expert" estimates on our current extinction rate vary and they vary widely. As lay folks, what we can truly discern is that the loss of biodiversity is happening and through our actions we are putting the balance and the beauty of nature at risk. Joni Mitchell's words elegantly echo what could happen if we don't focus on preserving 'what we've got' before it's too late – Sustainable Orillia feels this contest will help bring that challenge to the fore.
The contest invites students to explore the many amazing species (both plant and animal) we share this planet with …whether directly in nature or virtually. After students have done some exploration and decide on one or more species to represent 'biodiversity' in a piece of art – it's on to the fun part, celebrating their selected species in a drawing or painting. The contest ends as of May 31st, 2023 and arrangements have been made in each participating school for submissions to be collected as of that date. Submissions should include a short (50 – 100 words) note explaining why a particular species was chosen.
Thanks to the generous support of Scott's Nurseries and Manticore Books, there are prizes for the first ($300), second ($200) and third place ($100) selections for secondary school students and for the nine top elementary school submissions ($50 each). Winning submissions will be determined by a jury and all submissions will be considered for publication in Sustainable Orillia's 2024 Calendar, as well as a 'Biodiversity Art Show' being planned for Sustainable Orillia Month – this coming September.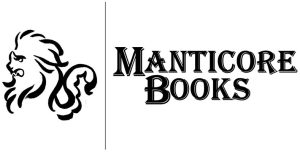 Our warmest thanks to our sponsors, Scott's Nurseries and Manticore Books, along with the many local art teachers who are supporting and collaborating to make this event a success for the students.
Last year's entrants looked to the future and shared their vision of a Sustainable Orillia in 2050. Their submissions confirmed the depth of talent, imagination and importance young people feel and bring to this important subject. Their work was lively and full of hope for a sustainable future. Here at Sustainable Orillia, we are hoping to once again repeat and showcase the creative messages of young people from across the community in 2023.
To learn more about the competition and how to participate – click here.
Click here to visit our archive of 2022 entrants.