Let's Talk Sustainable Agriculture Practices on Saturday, September 11th and Tuesday, September 14th.  
Come learn about community gardens, local markets and regenerative agriculture practices at Sustainable Orillia's information booth, all-day September 11th on the ODAS fairgrounds.  Allison Andrews, from Sustainable Orillia's Agriculture and Natural Environment Sector will be on-hand to provide materials and advice to those who are interested in learning more and getting involved in sustainable agricultural practices.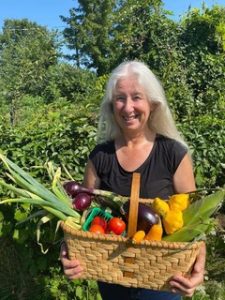 Let's start with regenerative agriculture practices, which is becoming better understood and more widely adopted around the world … these practices are farming and grazing initiatives that, among other benefits have been proven to reverse the effects of climate change by rebuilding the organic matter in our topsoil;  in turn boosting soil fertility, biodiversity, water retention and soil carbon sequestration.   Allison will have information available for growers, farmers, ranchers and teachers who want to learn more and potentially engage on a national level with Regeneration Canada.
Allison will also be promoting local markets to potential vendors and shoppers alike;  as well as providing information and encouragement with respect to Orillia's community gardens program. 
Overall,  this is an opportunity to learn a bit more about how we can stave off the ravages of climate change, while improving our local crops and overall health …through these regenerative practice.  And there is the sheer pleasure of participating in a community garden and producing our own table-ready produce.  Finally,  there's no better place than the Orillia Fall Fair to shop local… and enjoy the biggest local market we have all year.   An opportunity to go direct, with no plastic or middle men between you and loads of fresh, wonderful produce at your fingertips.   
___________________. 
The following Tuesday, you can catch up with Allison again… as part of Sustainable Orillia Week at the Mall.   Allison will be at the Sustainable Orillia desk on Tuesday, September 14th from 1:00 p.m.  to 4:00 p.m. and will be happy to continue the discussion on regenerative agriculture, community gardens and local markets then.  
_____________________ 
Film Viewing and Panel Discussion: 
Towards the end of Sustainable Orillia Month, on Wednesday, September 29th, we're pleased to confirm that Allison will be hosting an exciting in-person event at St. Paul's Community Centre from 6:00 p.m. to 8:00.  This free of charge event features a viewing of the recently released and highly acclaimed documentary 'Kiss the Ground', followed by a panel discussion for those interested in discussing this engaging documentary. 
"Kiss the Ground" initially focuses on the worldwide effects of the climate change crises by way of soil mismanagement; but quickly shifts to highlight the pivotal and positive impact of regenerative agriculture.   This shift in agricultural practices could potentially heal our soils, sequester carbon on a massive scale replenish our water supplies and ultimately balance our climate.   It is a powerful message for gardeners, farmers, ranchers and anyone looking for hope and renewal in this time of climate change, 
Along with Allison Andrews, panel members include Jacob Kearey-Moreland (Bass Lake Farms) and Emily Wilson of Orillia's Community Gardens among others.   All of whom are passionate experts and advocates for sustainable agricultural practices.  
The event will be available via webinar as well and whether in-person or virtual please go to 'sustainableorilia.ca/webinars' to register for this informative and exciting event.  
Refreshments will be available for those who attend in person and current public health guidelines with respect to COVID 19 protocols will be in effect