Do you love really good food?  Are you sure you know all the great places to buy the freshest, locally produced food for you and your family?  Think an updated digital food map might help expand your search?
Well, the Sustainable Agriculture/Natural Environment Sector of Sustainable Orillia (SO) is excited to tell you that such a map is coming together! It will be highlighting the area's Farmers' Markets, Community Gardens, and local growers and ranchers who contribute so much to the food scene in and around Orillia.  
Starting this spring you will be able to access the digital map through a QR code on the Food Map Poster.   These posters will be located strategically throughout Orillia.  The link will take you directly to a map on the Sustainable Agriculture & Natural Environment section of the SO website with locations and information about local food producers.  There will be no need for paper maps that have to be updated yearly and less paper usage is a big deal in itself.  We will also be able to add new farms and vendors easily onto the map as they join our growing community.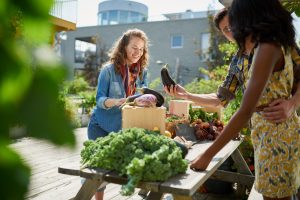 There are many fabulous reasons for buying local food grown and created right here in Orillia, the surrounding communities and farmlands.  Not only are we bringing home fresh and healthy food for ourselves and our families but we are also financially supporting the farmers and their families who are the caretakers of the land.  This land is vital to the livelihood of future generations of agriculturalists who will be feeding us and for its role in combating climate change!
Sustainable and regenerative agriculture practices are essential to positive climate action.  Rather than just aiming to reduce the amount of carbon released into the atmosphere, large scale regenerative agriculture helps pull massive amounts of carbon back into the soil.  Several methods, such as reduced or no tilling, cover cropping, crop rotation, composting and managed grazing work keep our soil biology healthy and able to sequester carbon.  This is crucial considering the amount of land used worldwide for farming, and carbon 'draw down,' done on a global scale, could effectively cool the earth and reverse global warming.  
If you have gotten this far into this article about our local digital food map then you can no doubt see the connection I am trying to make; how we spend our food dollars is paramount to how we prioritize the health of our families, the health of our agricultural land and the health of our planet.  
I could go into food miles, emissions from transporting vast distances, corporate control of seeds, diminishing varieties of fruits, vegetables and livestock, packaging, nutrient levels, pesticides, herbicides etc. but you have probably heard all that.  And if you haven't, there is a wonderful array of documentaries and books that can do a better job than I can. The Sustainable Agriculture & Natural Environment sector of the website will also be adding a comprehensive list of these informative resources as well!
Whether you call it locally-sourced, farm to table, or farm to fork, locally produced food supports us all. Keep an eye out for our digital food map posters, coming this spring. 
Be Part of Our Digital Food Map!
As referenced above, the Sustainable Agriculture/Natural Environment sector of Sustainable Orillia is pulling together a digital food map for Orillia and surrounding areas.
We will be highlighting our local farmers' markets, community gardens, and all of the growers and ranchers who help to produce local, sustainably grown food for our communities.  If you are a local grower or rancher – you will want to be part of this guide. 
The digital map will be accessed by the community through a QR code on posters that will be posted throughout Orillia. The link will take them directly to our map on the Sustainable Orillia website. This way, more people will be able to know what and where you are selling your local food!
Please join us. You can send your contact information to Allison Andrews 'allisonjoyandrews@gmail.com' to be included on the map.  If you have a website, Facebook, Instagram or other social media accounts, we would be happy to include those with your information on our map as well.
We plan to get the map in place and running this spring and we are looking forward to having you be a part of it!
Allison Andrews
Co-chair of the Sustainable Agriculture/Natural Environment Sector
Sustainable Orillia