Orillia's McLean & Dickey Ltd. will be ready to celebrate the company's 100th birthday next year in a new office building sustainably retrofitted for the future. 
McLean & Dickey's company roots go back to 1922, when George McLean Sr. started selling insurance to Orillians. His son George Jr. joined the firm in 1948 and his partner, Marwood "Dick" Dickey, came on board in 1953. In 2006 the Tisi family purchased the company and in 2016 moved it to the former F.L. Smidth building on West Street South.  
In April of 2020, the company purchased the Goodwill store (and former A&P grocery)—vacant since 2016—at 4 King Street and one year later the building has been transformed. McLean & Dickey was successful in applying for a $250,000 City of Orillia Downtown Tomorrow Community Improvement Grant ($50,000/year tax deferment over 5 years) that enabled the company to invest upwards of $1.5 million in improvements to both the interior and exterior of the building.
For owners Danielle Tisi, husband Mike Holenski and brother Sylvain Tisi, reducing greenhouse gas emissions was the driving reason for the changes that were made during the retrofit. "A lot of the changes would have been done one way or the other regardless of whether or not they saved money in the long term because they reduced our energy use and made us more sustainable as a company. This was the primary goal," Mike noted. "As an insurance broker we are on the front lines of the effects of climate change, and we deal with the resulting increase in claims and rising premiums on a daily basis. This retrofit gave us the opportunity to be a community leader in sustainability."
The owners of McLean & Dickey approached R&F Construction with a plan outlining the changes they wanted to make in the new building. Rick Rimkey from R&F Construction was able to make suggestions as to what rebate programs could be leveraged and he sourced the best solutions for the new building.
To start the renovation, old insulation was removed and exterior walls were sprayed with foam insulation to maximize heat retention. Then all windows were replaced with new double-glazing and offices and rooms located on exterior walls had large windows added. Individual offices that ring the main communal office space now have full glass walls to add to the sense of light and space. These, along with several skylights installed over the main office area, add to increased natural light, thereby reducing the need for additional lighting. 
In the retrofit, all existing fluorescent fixtures were replaced with high-efficiency LED lighting to take advantage of Ontario's Save on Energy retrofit program. The impact of this one change alone?  An expected savings of $4,000 per year in lighting energy costs.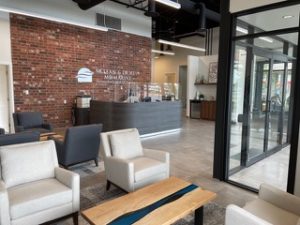 In addition, all light switches are on automatic light sensors that respond to movement and turn lights on and off as needed. This feature not only saves on energy but was also great as a preventative for COVID-19 as no one needs to touch a light switch anywhere.
The existing old single air-handler HVAC system was replaced with a 5-zone high-efficiency heating and cooling system that automatically adjusts temperatures and humidity throughout the office depending on requirements. The HVAC system includes MERV 13 air filtration with 90% efficiency that cleans the air of impurities—again, a highly recommended COVID-19 ventilation feature. The Zonal HVAC system is fully computerized to maximize energy savings. 
The renovation also recognized the inefficiency of a single source of hot water in a large building.  The existing single hot water tank was replaced by multiple smaller tanks that are installed underneath each sink. The office has four kitchen/café areas throughout the building, and each has its own small hot water tank. The staff washroom area uses one large tank that sits in the ceiling space directly above the washrooms. In all cases, replacing the existing hot water tank with new, efficient smaller tanks means hot water doesn't sit for any length of time cooling in pipes and requiring taps to be run before hot water reaches a faucet. There is a savings in both energy and water use, leading to reduced costs over time.
Finally, anticipating electric vehicles that are on the way, the retrofit included roughed-in conduit to enable two EV parking spaces. Installation for the EV charging stations is planned for this summer. This may make McLean & Dickey one of a handful of independent businesses in Orillia that have an EV charging station—and the only one at present in the downtown area.
As noted above, the drivers behind these sustainable initiatives were the owners of the company, Danielle, Mike and Sylvain. It was their desire to implement as many green initiatives as possible, within budget. Looking towards the future, there are long term plans to potentially add solar panels to the roof of the building and/or install a green roof.
So congratulations, McLean and Dickey, on having been in business for almost 100 years. Your future-focussed thinking points to success in your next 100 years! A renewed building was the result of renewed thinking in this example.
Sustainable Orillia salutes this local company for their forward-thinking retrofitting of their new building. Like the Hummingbird in the African folktale, Danielle, Mike and Sylvain have decided to "do the best they can" to combat the climate crisis. The renovation to 4 King Street is a model for sustainable building and renovations in our community.