"Let's not be too busy to save our world." (BF Nagy, The Clean Energy Age, final sentence)
One of the best books we've come across for ideas on how to combat the climate crisis is The Clean Energy Age: A Guide to Beating Climate Change, by BF Nagy (Rowman and Littlefield, publishers, 2018). Nagy has researched diligently, and convincingly makes the argument that we already have the technology we need to make the transition to a more sustainable way of living. The only missing element is the required will—in our politicians and ourselves—to make the needed changes.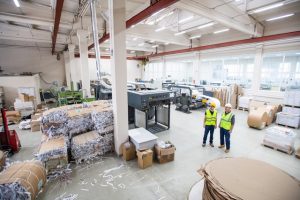 He begins his book with a chapter of "Top 10 Lists"—suggestions for people in all walks of life, from homeowners to politicians, from developers to store clerks—of things that each of them can do to quicken the pace of the changes required.
Two previous Tips of the Week have provided a Top 10 List for Engineers, Architects and Tradespeople and another for Urban Planners. This column, with thanks again to Nagy for his work, will focus on his top 10 list for people who are in Manufacturing and Agriculture.  Everything we buy, of course, is manufactured by someone.  For everything we eat, as the saying goes, we need to "Thank a Farmer."  Both manufacturing and agricultural practices are major sources of carbon emissions and, while solutions for cutting these emissions are being developed as you read this, much remains to be done.
Here are Nagy's "Climate Change Priority Action Steps" for manufacturing teams and for agricultural teams:
1. Work with energy-efficient engineers.
2. Modernize production-related energy systems.
3. Modernize building envelopes.
4. Optimize heating and cooling equipment.
5. Investigate rooftop solar PV panels for electricity.
6. Save with solar thermal, drain heat recovery, and responsible waste management.
7. Press your governments on energy issues and fair global trade.
8. Press governments to significantly invest in electric vehicles and more transit (electric, of course) .
9. Green your fleet.
10. Green your shipping partners and supply chains. Buy local.
11. For cattle farmers, implement manure management with help from government.
Nagy goes into more detail in his book about how each of these steps will contribute to creating a better, more sustainable community.  We urge manufactures and their employees to learn more about how they can help fight climate change by greening their operations.
Many in our cattle farming communities are already making progress in reducing emissions of methane from manure and from cattle. In addition, changes in planting and crop rotation, among others, are resulting in more carbon being sequestered in the soil by farmers across the world. These examples are leading the way for others.
As our earlier Nagy-inspired Tips noted, our buildings are responsible for 20% of greenhouse gas emissions. Transportation is responsible for 25% more. Estimates of the percentage of emissions from agriculture and food production range from 15% to 25%, depending on the country—with methane and nitrous oxide emissions being even more serious than carbon emissions. It is in the manufacturing and agricultural sectors where significant solutions to climate change can be realized.
                                    _____________________
PS.  Nagy's book can be purchased at Manticore Books in downtown Orillia.  If one's not in stock, they'll order one in. Drop in today.