Hats off to Blythe Wieclawek and Weiqi Xu (Sustainable Orillia's Youth Council President and Vice President) as they head off to university after leading the Youth Council (SOYC) for more than two remarkable years. As Blythe and Weiqi wind up their tenure, along with their fellow council members, they have much to be proud of – most notably ensuring a seamless transition and foundation in place for the Council to continue to grow in the coming year.
Before we go further into some of the Council's accomplishments – let's take a moment to congratulate outgoing President, Blythe Wieclawek for being named Orillia Business Women's Association's "Young Woman of the Year" at the evening's dinner on June 14th.  In the printed description in the program, Blythe's work with SOYC was prominently mentioned as it was in her comments.
Blythe is a top student, athlete, musician and contributor to the quality of life in her school, the community and as she heads off to Harvard in the fall… there'll be no boundaries on what she will accomplish.  Congratulations as well to Blythe's family – she often credits their values, support and example as motivational role models.  As for us at Sustainable Orillia … we are enormously proud of Blythe's accomplishments, who along with Weiqi have led the Council positively through some tough (read: COVID) years and deserve all the recognition they receive.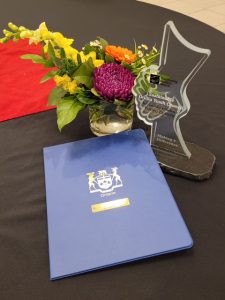 And now back to Council news, as three exciting SOYC events have taken place recently … the first we have already highlighted. Last month, the SOYC was recognized by Village Media as a Community Builder Award in the Youth category. Successful projects like the Simcoe District Youth Summit provided ample criteria for this recognition.
Another initiative of the current council and particularly Blythe and Weiqi, was the creation of an SOYC bursary program. We are pleased to confirm that this program has been approved and funded … applications are currently being assessed for the three 2023 scholarships and there will be more news (and noise) about this terrific program and our partners in the weeks to come.
And thirdly … continuity of Council leadership is confirmed. As the SOYC heads into its fifth full year of operation, we are pleased to announce two new SOYC leaders – taking on the challenge as President is Kate Sontag, supported by new Vice President, Anna Bivol … Both Kate and Anna are Patrick Fogarty students …Kate is entering Grade 12 in the fall, and Anna will be entering Grade 11. Best wishes to you both – we are looking forward to introducing you more fully to the Sustainable Orillia in future articles, and are very excited about working with you in the year to come.
Best wishes to Blythe and Weiqi – with our thanks for all your hard work on behalf of the Sustainable Orillia Youth Council. You have truly made a difference and we wish you continued success.