A current ad on television asks viewers to look back – back thirty years, before technology lifted our day-to-day tasks up onto platforms, applications and networks that were unimaginable at the time. So much change in just thirty years!
Begging the question, what will the next thirty years bring? That's a question with significant impact on the well-being of our young people and their futures and that's why Sustainable Orillia is prioritizing our young people this month – with a lineup that includes five youth-oriented activities.
If you are a parent, grandparent, teacher or just have young people in your life, please check out our September agenda. You are invited to join us in understanding and enabling the future sustainability and well-being of our children, grandchildren and all their contemporaries – here in the Orillia area and around the globe.
Learn how Youth are Responding to the Climate Crisis
On September 19th, one of Canada's leading researchers in the study of the climate crisis' impact on younger generations, Dr. Ellen Field, Assistant Professor of Education at Lakehead University, will be presenting an overview of her research findings at Creative Nomad Studios (23 Mississauga St. West) in Orillia.
Based on input from 1000 young Canadians, ages 16 to 25, this presentation will provide attendees with a line of sight into what their children, grandchildren, students and young friends are feeling. The Canadian field work follows on a 2021 study of 10,000 youth in ten countries, which showed a higher level of climate anxiety than ever seen before. Dr. Field will also provide insights into what can be done to open up lines of communication with this cohort – an important first step in providing an antidote to their anxiety. There will also be time allotted for a question and answer period.
Dr. Field's presentation is free of charge, from 7:30 p.m. to 9:00 p.m. in the Creative Nomad Studios, (2nd floor) at 23 Mississauga Street West. Desserts and coffee will be served for attendees. Seating and desserts are limited – please register for this meaningful event by clicking on the link below.
To register your attendance for this free event – please click here.
Student Art Exhibit – What does Biodiversity mean to Young People? From September 9th until September 29th, you are invited to view a showcase of student art that focusses on the biodiversity in our area. The 19 imaginative pieces are on display at Hibernation Arts Studio (17 Peter Street South). The art work was selected from close to 200 submissions from school-age children throughout the region in response to SO's 2023 student art competition. They provide a glimpse into the importance young people place on all of nature – the living creatures and plant life all around them.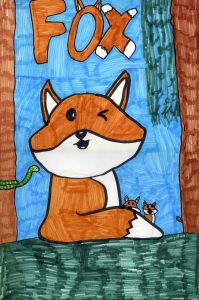 Come view this heartfelt presentation – much of which is captured in the 2024 Sustainable Orillia "Biodiversity Calendar." Copies of the calendar are available at the Gallery, as well as at CC Fashions (50 Mississaga St. West) and Home Hardware (5 King Street), for $10.00 each. Proceeds from the calendars support SO programs, including the annual Student Art Competition.
To learn more about our 2024 Sustainable Orillia Calendar, follow this link.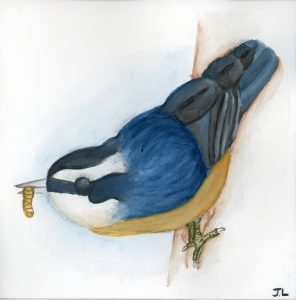 Learn more about the Student Art Exhibit – click here
The Global Climate Strike! Let's Make our Voices Heard!
Young people from across the area will rally in support of the Global Climate Strike on Friday, September 15th. All area residents are invited to join the rally this Friday and show their support on behalf of their futures. Participants will muster at the Orillia Public Library Courtyard, 4:00 p.m. on Friday, September 15th and will march together to Orillia's City Hall to demonstrate their support for climate actions. SO is encouraging everyone who can take an hour to join with our young people and your neighbours to ensure our message is heard. Every voice counts!
For more information – follow this link.
Highlighting Youth Leadership in our Community.
We are delighted to introduce the two young leaders who have taken on the 2023-24 leadership of the Sustainable Orillia Youth Council (SOYC): Kate Sontag, a Grade 12 student at Patrick Fogarty (PF) has taken on the role of President. Kate is supported by Vice-President Anna Bivol, a Grade 11 PF student.
As students move through their high school years, SOYC membership and leadership has been refreshed from year-to-year. It is a credit to the previous Council's leadership (Blythe Wieclawek and Weiqi Xu) and to Kate and Anna that this year's handoff has been seamless. One of the Council's objectives and benefits is the opportunity to learn and practice leadership skills. The competence of these future leaders has been impressive.
Kate Sontag grew up in Orillia and joined the SOYC to show younger kids and teenagers
that they can be advocates for what they believe in and make tangible, positive change in their communities. As President, her main goal is to organize and host the second Sustainable Simcoe Youth Summit in the early spring of 2025–a project she and Anna are very committed to.
After high school, Kate hopes to attend university in Nursing, ideally in a nature-rich locale – perhaps British Columbia.
Anna Bivol arrived in Orillia from Toronto six years ago. She was attracted to the Youth Council by their initiatives and messaging. Anna also credits previous SOYC Leadership and is following in their footsteps to continue the productive and informative nature of SOYC, spreading knowledge among young people about climate change.
Anna has strong technical skills and has volunteered to help out with our website and social media platforms, help that is greatly appreciated. She plans to attend university and will likely major in Nuclear Engineering.
Together Anna and Kate are a strong team with ambitious plans to build membership and organize and host a repeat of the successful 2022 Youth Summit. High school students from all three local high schools are welcome to join the SOYC. Kate can be reached c/o <katesontag@sustainableorillia.ca> and you can contact Anna c/o <anna@sustainableorillia.ca>.
Recognizing Youth Contributions towards Sustainability.
Working through the guidance departments in each of Orillia's local high schools, we are pleased to confirm that the Sustainable Orillia Youth Council Scholarship has been rolled out for its second year. And we would like to thank the Orillia Power Corporation for partnering with us on this very important program.
Last year individual scholarships of $500 were awarded to three deserving graduating students – all of whom were active, productive members of the SOYC. From Orillia Secondary School (OSS), recipient Ceylon Auger has shared her thoughts on how the Youth Council and scholarship have influenced her lifestyle, now and in the future.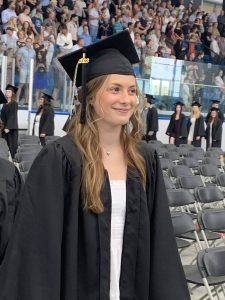 "As a recently graduated high school student, I am preparing for the independence that comes along with my post-secondary plans. For me, this includes cleaning, cooking, travel, etc. which I am settling into the idea of. My participation in the Sustainable Orillia Youth Council, as well as working at The Refillery District has given me an understanding of the importance of sustainable living for people of all ages.
Although a sustainable lifestyle can appear to take more money, work and time – you can end up saving money and reducing single-use waste. This is what inspired me to allocate part of my Sustainable Orillia Youth Council Scholarship to refilling my cooking, cleaning and travel products as well as purchasing durable, purposefully reusable items. This scholarship has allowed me to invest in my health, as well as a healthy planet and I intend to continue supporting small, sustainable businesses and initiatives – wherever my future takes me."
Right now, Ceylon's future plans take her to Dalhousie University where she pursue a double major in Environmental Science and ESS (Environment, Sustainability and Society), where there's no doubt that Ceylon will continue to influence friends and others to think and act sustainably.
If there are high school students in your household, they are very welcome to join the Sustainable Orillia Youth Council. In participating and being involved, they can become eligible for one of the three scholarships offered to graduating students each year.